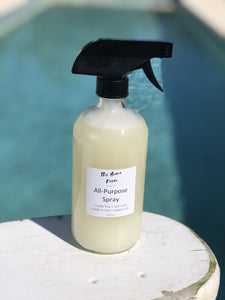 Ingredients: Organic Saponified Oils (Coconut, Olive & Jojoba), Lemongrass Oil, Cedarwood Oil, Lavender Oil, Rosemary Extract, Tea Tree Oil, Euclayptus Oil, Organic Aloe Vera.
This is a specially formulated and powerful multi-use cleanser that is safe and mild on YOU!
Our All-Purpose Spray is as safe as it gets, and is made from saponified organic coconut, olive and jojoba oils, essential oils, organic aloe vera and rosemary extract, making it an entirely GREEN cleaner!
HOW TO USE: Use it to clean counters, floors, woodwork, tile or other household surfaces, and have no fear to use it in around babies!