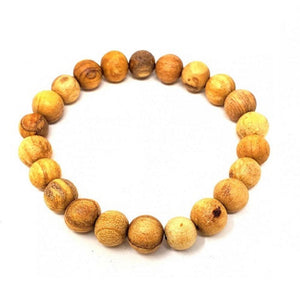 Beads made of real Palo Santo Wood (Bursera Graveolens)
Our fragrant Palo Santo Small Bead Bracelet is beautifully hand-crafted and very aromatic.
The beads are strung on an expandable Stretchy cord designed to fit most wrists. Palo Santo has Antioxidant Antiseptic, anti-inflammatory, and anti-bacterial properties so by wearing this Bracelet you might be benefited. Palo Santo also has a pleasant Aroma naturally.

Wear 2 or 3 bracelets at a time for a very stylish look. Approximate 22 Round beads 8-9 mm.