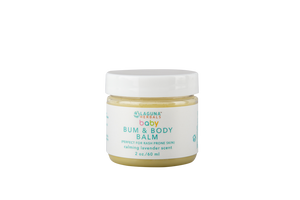 Organic hypo-allergenic balm for body and diapering made with natural and organic ingredients and zero irritants. Recommended for: Organic Baby Bum & Body Balm is suitable for all skin types, and can be especially beneficial to sensitive, delicate skin.
Target concerns:
✓ Ease discomfort due to diaper rash
✓ Soothing dryness
✓ Providing nutrients and nourishment
Made for baby's most delicate skin, this product will naturally provide the nutrients your little one needs to ease rashes and redness. Can be beneficial for those with rash prone skin.
How to Use:
✓ Apply as an all over moisturizer and/or diaper balm, a little goes a long way
✓ May be used as a barrier to help prevent rashes.
✓ Great for healing dry skin and scrapes
Green Ingredient Benefits
Olive Oil is loaded with antioxidants like vitamins A and E. Olive oil contains polyphenols that protect the skin from environmental damage, including dryness, chapping and rash. It also helps promote skin elasticity and softens the skin.
Safflower Oil contains high content of linoleic acid in safflower oil soothes and softens the skin. Linoleic acid can help to clear up scars and other blemishes from the surface of the skin.
Beeswax keeps moisture in the skin and keeps the skin insulated from environmental irritants. It won't clog the skin's pores. Beeswax may further enhance the condition and appearance of the skin. Beeswax is a natural preservative that will extend product life and eliminates the need for harmful chemical preservatives.
Chamomile is great for baby's skin because it is calming, gentle and will keep baby's delicate skin soothed and protected.
Calendula has been used for centuries to treat and prevent rashes for baby's delicate skin. It  provides natural anti-oxidant agents for added skin health.
Plantain stimulates skin cell regeneration, and beautifies and heals the skin.
Ingredients: *Olea Europaea (Olive) oil, *Carthamus Tinctorius(Safflower) oil, *Cera Alba (Beeswax), *Anthemis Nobilis (Chamomile), *Calendula Officinalis (Calendula), *Plantago Major (Plantain), essential oil of lavender,  Non-GMO Vitamin E, * certified organic